​
​About
Gallery
Pricing
Catering Menu
Reviews
Contact
Arkansas Wedding Venues / Hot Springs AreaThe Barn at Lost Creek​"Not Really a Barn"
​The perfect place for your countryside wedding or event.
​We have the rustic chic atmosphere that will make your special occasion so much more memorable.
​If your occasion requires formal attire you and your guests will be completely comfortable in our heated and cooled barn.
​With private dressing rooms, great bar, fabulous sound system, and a
5000sf wedding garden, your special day will be absolutely perfect.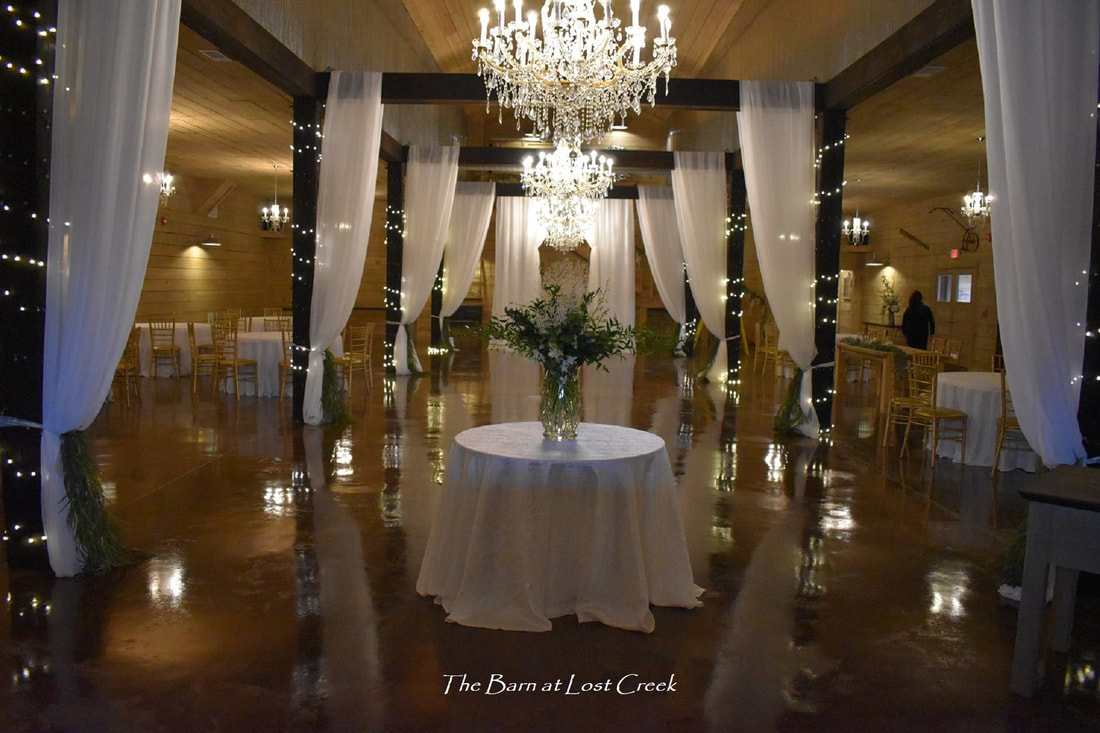 Pricing
​
Weekend Days are by the full day of 14 amazing Hours - 9am - 11pmSaturday Rentals - $3,200.00
Plus $6.00 Per Guest Over 100
​Additional guests up to a maximum of 250
Friday or Sunday Rental - $2,600.00
Plus $6.00 Per Guest Over 100
​Additional guests up to a maximum of 250
Monday - Thursday - $350.00/hr. with 4 hour minimum for up to 100 guests
Plus $6.00 per guest over 100 up to a maximum of 250
Full weekdays are negotiable.

Photo Shoots
$150/hour upon Availability
25% Down at Booking -
Balance due 60 days prior to event. along with a separate check of $500.00
as a security deposit to apply to any damages that may occur. Pricing for Venue Use for Wedding and/or ReceptionIncludes:5000sf Wedding Garden and Barn
​Dressing Rooms w/Private Bathrooms
Covered Entry for Drop Off and Pick Up of Guests
​Handicap Facilities
Use of Burn Pit
Built-In Bar Area
Built-In JBL Sound System5' Round and/or 8' Rectangle Tables with Chiavari Chairs,
Head Table, Cake Table, Gift Table, Food Service TablesStock of Vases, Votives, and other Table Deco Complimentary Ice For Drinks OnlySet up and Tear down IncludedStaff Member(s) Available on Site to Answer any Questions and to Direct VendorsAdditional Services and Upgrades:
Variety of Linens $9 - $15 each
Table Runners $3.00 each
​Glass Dinnerware $5.00 ppGlass Dinnerware with Chargers $6.50 ppBartender $35.00/hr.2 Staff Attendants $60.00/hr. Recommended for groups of 100 or more.Flowers and Other Décor / $$$Wedding Planner, Officiant, Singers, DJ, and Photographer services available upon request.Catering service available onsite. Other caterers may use kitchen for a $150.00 equipment charge.
Prices may change without notice.
Reviews
"This venue is perfect! The location is great, the owners were wonderful to work with, and everything was beautiful. I would highly recommend this venue to anyone who wants to add class to any event!"
Ethan L. October 2, 2019

This place is amazing!!! So beautiful and it has heat, ac and a full kitchen. Margo is amazing and will make your wedding a DREAM. Mary Jane September 7, 2019
​
The staff and owners were very friendly and the wedding was beautiful. They made it look so beautiful and memorable.
Marcia L. August 31, 2019
"Absolutely the most beautiful venue! Margo was so gracious and ready to listen to every concern or idea I had. They thought of all the details when planning this building. Everything flows smoothly from one area to another and you have more than enough room for a huge crowd. Gorgeous dressing rooms for the girls and for the guys each with a private bathroom. Plenty of bathroom space for guests. Awesome kitchen, and you WILL want Margo to cater for you, delicious! !And the most gorgeous garden ceremony area. Barn at Lost Creek has it all!!!" Rachel G. May 30, 2019
My daughter just had her wedding here at The Barn. I highly recommend this venue!! They were so amazing to work with!!
Margo you rock girl!!!! Sue Ann G. April 28, 2019

Such a pleasure working with these two, they are so visibly in love with each other, and I just can't say enough good things about The Barn at Lost Creek, what an amazing venue!! Mandy B. Photographer April 27, 2019
"My niece got married this past weekend. It's a fabulous place❤️❤️❤️❤️" Aaron R. 4/15/2019
There are no words to describe how amazing this venue is! Margo is by far one of the best people I have ever met. She made sure everything I wanted was done and it was done how I wanted it. She bent over backwards for me and I felt like I was part of her family, that's how good she takes care of her clients We used the barn just for a reception venue but I would have used the beautiful outdoor chapel in a heart beat if my husband and I weren't so dead set on Anthony chapel at Garvan Gardens. Not only is the place beautiful but it very spacious and accommodating! But once again this place amazing in every way, use the catering service Margo runs !! OMG you talk about to die for. I literally couldn't pick between my 5 choices !!!! Not to mention she packed left overs and we ate them for 3 days after! She helps you do everything before during and after ! She helped make my wedding day the day of my dreams ! And I am so so very thankful !!!! I'll be sharing my photographers pics as soon as I get them back !!! Courtney L. April 10, 2019

Had my daughters wedding there last night. From the moment we met Margo and her family we knew this was the place. She is an amazing person that helped in any way possible and then some. Her facility was breath taking. I'm not only the brides mother I'm a hairstylist That did all the hair and makeup and they have thought of everything to accommodate every one that walks in their doors. Margo and her family are amazing at what they do! I will recommend this venue to everyone of my family, friends and clients.
Thank you again. Terri R. April 7, 2019

Beautiful venue I went there one time and fell in love and I booked it for my date! The owners are very flexible, personable, Also just plain nice! I would recommend this venue to anyone! Anna M. April 1, 2019
Worked with us on everything and we even were able to set up 2 days before the wedding, which made for a stress free wedding day.
Kelsey C. 1/5/2019
"Nice owners. Very pretty. Roads in great condition to get to can do inside or outside wedding" Nancy B. 1/4/2019
I want to thank Margo for making my daughter's wedding so amazing!!!! Margo is the owner of The Barn of Lost Creek and does such a great job in everything she does. First of all the barn is beautiful and she works with you with your colors and design you want. She is so very helpful on the wedding day, and is willing to help with every detail!!! I love you Margo, you are one special lady!!
Toni D. 12/31/2018
"Margo is the BEST!!! She is so professional, talented, helpful, and so very sweet. I highly recommend Barn at Lost Creek for a wedding or special occasion!!!" LeAnn D. 12/31/2018

​"We had a great time yesterday working with The Barn at Lost Creek. Margo was efficient in advising us where to go, and house rules. We look forward to helping other couples and family's enjoy their events with you. -Turner Bartending" 12/30/2018
Wonderful place! Can't thank Margo enough. Jerry J. 11/3/2018

The facilities and amenities are top notch! My son's wedding was unbelievable. A huge thank you to the owners Margo and Mike Williamson. Tonja B. 10/28/2018
The Barn at Lost Creek was BREATHTAKING! And Margo is an absolutely incredible person to work with when having a wedding! I had to book a venue from out of state and only going on pics and reviews but my goodness this venue was more beautiful than I ever imagined! Margo and her family has built a truly amazing venue! 5+ Stars all the way across! Andra T. 9/23/2018
Perfect Wedding Venue!! Impeccable attention to detail, Exquisite decorating, Most friendly staff!! 5+ RATING Across the board!!
Casey W. 9/23/2018
Absolutely amazing! The owners helped out tremendously! I would highly recommend this venue!!!!! Kim K. 7/6/2018
My wedding was PERFECT Sarah T. 6/4/2018
Title:
"
Wedding
"
Rating:
5 stars
Comments:
Stunning Wedding venue! Owners were amazing and accommodating they helped me pull off a last minute New Year's Eve wedding with no problems! They were great to work with and made my wedding day perfect!
1/2/2018
Went to a Christmas Party here and it was amazing. Indoors and outdoors were beautifully decorated and very spacious.
Amber L. 12/9/2017

As a hairstylist I've done countless onsite wedding hair and I have to say this place was by far the best location I've been at. Very clean & nice. The owner was very helpful and sweet. If your looking for a barn venue this place is it! Kristin S. 11/22/2017

Just played a wedding gig here and I have to say that the location was wonderful. It's definitely the place to be if you're looking for a clever blend of modern and rustic. Zac W. 11/21/2017

Margo is the best! Her venue, her responsiveness, and her food--it's all amazing. Our reception wouldn't have been half of what it was if it wasn't for her and her husband running around and making sure things were great. This is the best wedding venue in the area.
Hitee R. 10/11/2017

The venue is very inviting and romantic. Loved being able to Decor & Coordinate the wedding for the Nottage couple
Kimberly T. 10/9/2017
Amazing venue! Full size kitchen and bar, love it! ........don't wait book it now! Justin B. 10/8/2017

BEAUTIFUL VENUE! They've really thought of everything! Bethany B. 1/7/2017

S
uper impressed with all of the details! Nothing left to chance, everything has been very thought out, using the best materials!
EG B. 1/4/2017
Drew and I had our wedding here! We'd do it again in a heartbeat. Totally loved it!
W
e had such a beautiful wedding because of Margo (and with the help of my parents and their friends doing the decorations, haha) and her hubs made everything so special for us. I'll promote The Barn at Lost Creek venue to anyone! I pray that you guys do incredibly well there. Reecie L. 12/2/2016
I love this barn. I must get married here. The ceiling height and chandeliers are devine.
Sarah R. 7/72016
A Truly Impeccable Gem in the Beautiful Ouachita Mountains of Arkansas. The Designer left no stone unturned to provide for even the most demanding perfectionist. I'm from Texas and "Lost Creek" has absolutely everything for providing the Finest Obtainable Venue this side of the Red River. Simply Perfect inside and out ..... Dr. R. Love ~ ☆☆☆☆☆ ~

​
- JUST VOTED #2 in BEST OF THE BEST by the Sentinel Record Readers Choice Awards -
​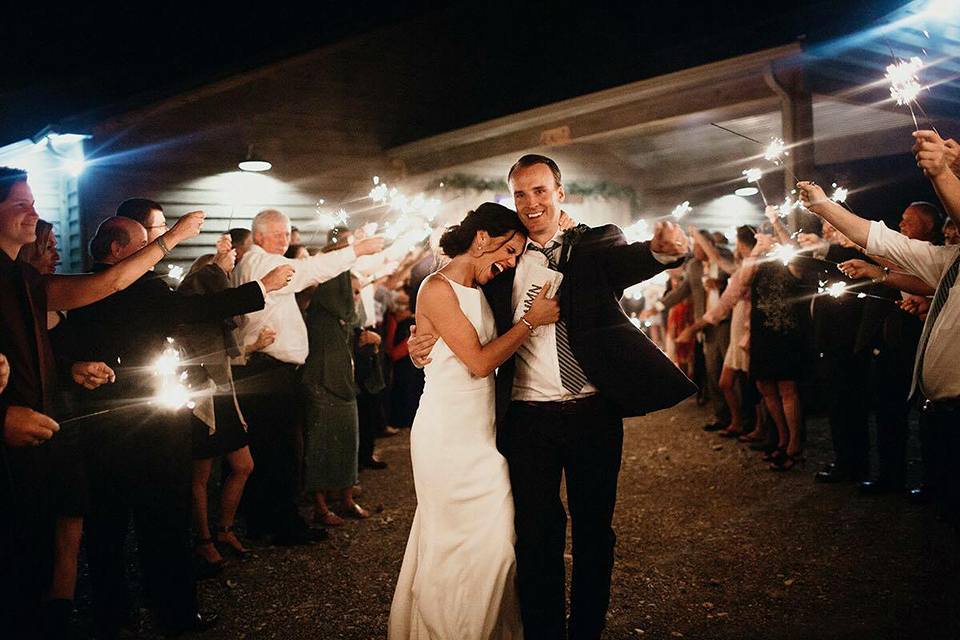 Site powered by Weebly. Managed by
iPage