​
​About
Gallery
Pricing
Catering Menu
Reviews
Contact
FAQ
The Barn at Lost Creek
Arkansas Wedding Venues / Hot Springs Area​"Not Really a Barn"
​The perfect place for your countryside wedding or event.
​We have the rustic chic atmosphere that will make your special occasion so much more memorable.
​If your occasion requires formal attire you and your guests will be completely comfortable in our heated and cooled barn.
​With private dressing rooms, great bar, fabulous sound system, and a
5000sf wedding garden, your special day will be absolutely perfect.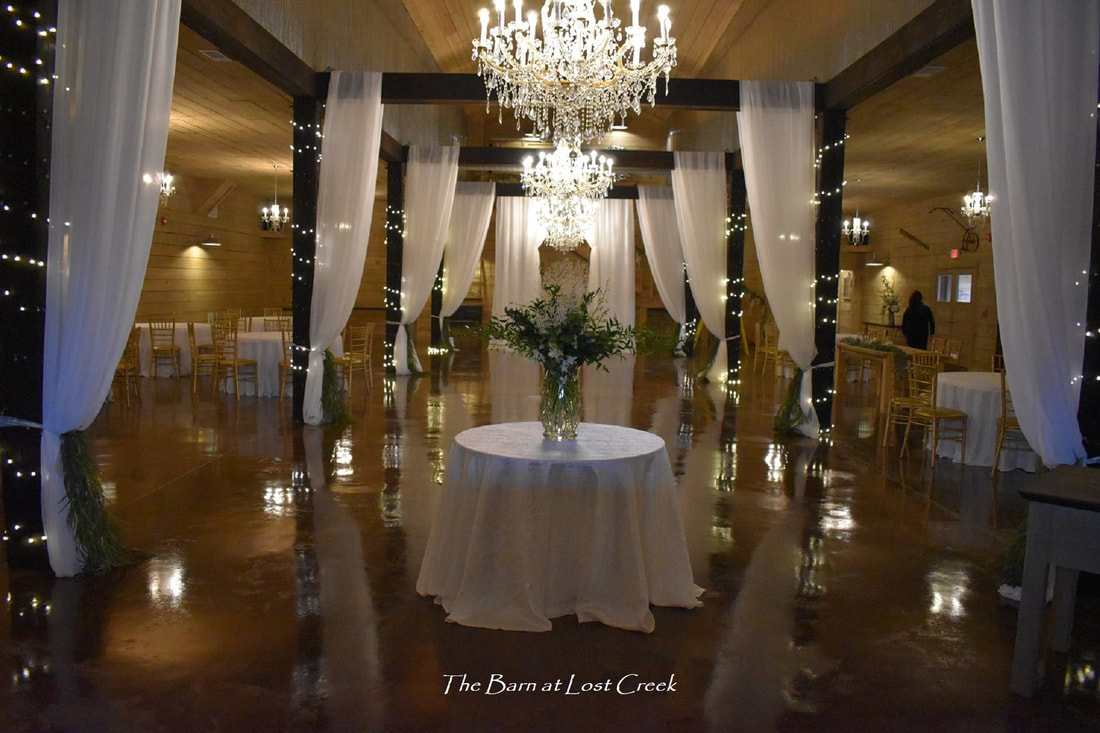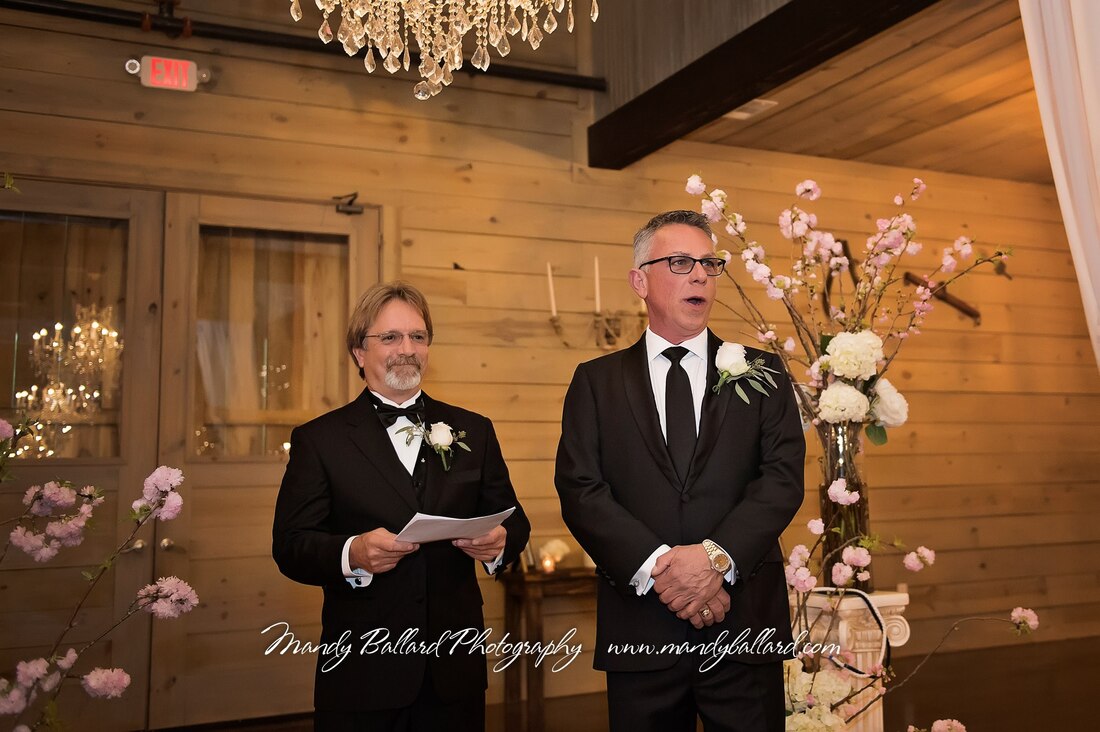 Current Pricing
(For Holiday Dates - Add 10%)

Full Day Package
Guest Count up to 200 - 14 amazing Hours - 9am - 11pm
Saturday Rentals - $4,200.00
Friday or Sunday Rental - $3,600.00
Weekday Monday-Thursday Rental - $2,800.00

Partial Day Package
Guest Count up to 100
Plus $6.00 per guest over 100 up to a maximum of 200

Brunch Time 9am - 3pm
Saturday - $2,100.00
Friday or Sunday - $1,700.00
Weekday - $1,200.00

Evening Time 5pm - 11pm
Saturday - $2,800.00
Friday or Sunday - $2,400.00
Weekday - $1,900.00

SPECIAL NOTE: Additional "Any Day" hours at $300.00 per hour.

Photo Shoots
$300/2 hours - upon Availability

25% Down at Booking - Balance due 60 days prior to event along with a separate check of $500.00
as a security deposit to apply to any damages that may occur.

Pricing for Venue Use for All Events - Wedding, Reception or Other
Includes:
4400sf Reception Space
5000sf Wedding Garden
​Dressing Rooms w/Private Bathrooms
Covered Entry for Drop Off and Pick Up of Guests
​Handicap Facilities
Built-In Bar Area
Built-In JBL Sound System
5' Round and/or 8' Rectangle Tables with Chiavari Chairs,
Head Table, Cake Table, Gift Table, Food Service Tables
Stock of Vases, Votives, and other Table Deco (Small Fee for Glass Cylinders)
Set up and Tear down of Tables and Chairs Included
Kitchen use of refrigerator, freezer, and limited sink use is free. For other use see below.
Staff Member(s) Available on Site to Answer any Questions and to Direct Vendors

Additional Services and Upgrades:
Variety of Linens $9 - $20 each
Table Runners $5.00 each
​Glass Dinnerware $5.00 pp
Glass Dinnerware with Chargers $6.00 pp
Bartender $35.00/hr.
Staff Attendants $30.00/hr.
Flowers and Other Décor / $$$
Wedding Planner, Officiant, Singers, DJ, and Photographer - Recommendations upon request.
Catering service available onsite. Other caterers may use kitchen for a $150.00 equipment charge.
Prices may change without notice.

​
Reviews
(Please Leave Reviews on: WeddingWire, The Knot, Facebook, and Google) Title:
Saturday was perfection!
Comments:
Those were my daughters words when describing their beautiful wedding day at The Barn at Lost Creek. From the perfectly appointed dressing rooms for both the girls and the guys, the dreamy garden path that lead to the alter to the rustic yet glamorous reception space with a breathtaking country backdrop, the day was indeed perfection. Margo was a calming, reassuring and accommodating presence all day. The only thing we could have wished for would have been more hours in the day!
​Toni K.
Positive:
Professionalism, Quality, Responsiveness, Value
This place was amazing!! Everything you could ask for in a wedding venue is here.
Beautiful inside and out, wonderful photo spots. Beautiful decor. It's all here. Margo was extremely helpful.
Had some personal issues going on and she made sure to help wherever it was needed, which I am grateful for.
Whether you have a rustic wedding or other this is your place. Thanks Margo L.G. via Google Review December 6, 2021
Margo is so great to work with! She is more than just the venue, she can provide linens,
dishes & decor, she caters, she has great referrals!! Literally the total package!
She is very hands on & communicates effectively. I am totally impressed by her.
The venue speaks for itself, it is BEAUTIFUL! Our "countryside dream" boho wedding truly came to life!
Thank you Margo! Five Stars!!! H.S. via Google Review
Margo does a great job offering a great venue for weddings and receptions. VR via Google Review
Margo is so amazing! I literally had the most perfect day, and she is so easy to work with.
She guides you where you need it, but lets you make the final decision on what you want. I would definitely
book her again and would highly recommend her to anyone. The venue is stunning, and she puts everything
together flawlessly. She is truly the best and went above and beyond for my family and for us!
The food is amazing as well! We had the smoked chicken and brisket dinner, and it was delicious!
If you are looking for a venue that is beautiful, affordable, and absolute perfection,
stop reading this review and call Margo. She is the greatest!
Thank you, Margo, for everything! AB via The Knot
Definitely the best decision in venue!! The owner was super easy to communicate with, helped us get
everything how we wanted it and was there the day of to help us make sure everything went as planned!
Our wedding was August (It was very hot outside) and this venue has AC, Rooms for the groom and bride,
and a small bar area. 100% recommended, will be back when we need a venue!! Thank you! I C August 25, 2021
Nice venue for a wedding and the food was great! E B
Five Stars!!! M A
Beautiful setting, plenty of parking close up. The Reception area was awesome and beautifully decorated.
​Very Clean. Would recommend it to anybody. # Beautiful PP DD
Margo is amazing to work with! She made my day so special and so easy on us.
She had the whole barn decorated and everything flowing smoothly.
She is also a caterer if you decide to use her for that.
The built-in bar was amazing for our family and had enough space.
All in all, this was the best venue! K.
Positive:
Professionalism, Quality, Value
Great venue with an amazing staff!! I met the owner of the venue and she is so sweet
and goes out of her way to make sure you have an amazing time on your special day!!
The venue itself is beautiful and the cleanliness is top notch!! C.
Beautiful setting for indoor or outdoor celebrations. P.T.
I was a bridesmaid in a wedding here, and I just have to say that the owner is SO nice
and helpful with everything. J.P.
Margo is the best she made everything so much easier for our big day,
couldn't have done it without her. N.C.

Beautiful place and Margo was such a pleasure. G.G.D.
The grounds were clean and well kept, which made walking from the parking lot to the venue to the
​outdoor wedding location very easy. The barn venue was very clean, and the A/C worked great!
It is a beautiful location. Pamela F.
Absolute pleasure working with you and your crew!
​And the food was off the chart awesome! Angela D.
Absolute blast working with the great people at The Barn At Lost Creek!
Thanks for having us! SharpeWeddingFilms.com
This venue is gorgeous! And the owners are so sweet and helpful! It's practical and you get a lot for the price you pay! I will always recommend this venue for events! Shelby V.
Thank you, Margo and crew! My son and daughter in law's wedding was perfection yesterday! The venue was gorgeous, and the food was delicious! Diane G.
It's a beautiful space, both the outdoor wedding area and the barn. The staff were amazing. Angela M.-B.
My daughter had a beautiful wedding at the Barn at Lost Creek!! The venue is gorgeous, and Margo was so gracious and easy to work with. Margo also did the food for the reception, and it was delicious!! Melinda H.
Margo Williamson, I love how you jump in with both feet to make it great for couples and their families.
You are so great to work with! Chris H. DJ
"Beautiful venue and setting! Margo is wonderful to work with and helps to make sure all details are covered. We couldn't have done it without her expertise to guide us every step of the way for our daughter's wedding!" Rebecca K.
"We would recommend the BARN AT LOST CREEK to everyone for any occasion. Not only is it beautifully designed inside, but the flow from the outside where the wedding took place into the barn was so convenient." Mary B.B.S.
This is the most gorgeous wedding venue I have ever seen. We barely had to decorate because the beauty is in the construction and lighting! The owner of the venue, Margo, is wonderful to work with and she was so helpful and flexible through the entire process, from when we first booked until the wedding was over. She is a talented decorator. She is also a caterer. They have anything and everything you could possibly need already at the venue. Call them if you are in the market for any type of event venue, they don't just host weddings! Lana M.
"This venue is perfect! The location is great, the owners were wonderful to work with, and everything was beautiful. I would highly recommend this venue to anyone who wants to add class to any event!"
Ethan L.

This place is amazing!!! So beautiful and it has heat, ac and a full kitchen. Margo is amazing and will make your wedding a DREAM. Mary Jane
​
The staff and owners were very friendly, and the wedding was beautiful. They made it look so beautiful and memorable.
Marcia L.
"Absolutely the most beautiful venue! Margo was so gracious and ready to listen to every concern or idea I had. They thought of all the details when planning this building. Everything flows smoothly from one area to another and you have more than enough room for a huge crowd. Gorgeous dressing rooms for the girls and for the guys each with a private bathroom. Plenty of bathroom space for guests. Awesome kitchen, and you WILL want Margo to cater for you, delicious! !And the most gorgeous garden ceremony area. Barn at Lost Creek has it all!!!" Rachel G.
My daughter just had her wedding here at The Barn. I highly recommend this venue!! They were so amazing to work with!!
Margo you rock girl!!!! Sue Ann G.

Such a pleasure working with these two, they are so visibly in love with each other, and I just can't say enough good things about The Barn at Lost Creek, what an amazing venue!! Mandy B. Photographer
"My niece got married this past weekend. It's a fabulous place❤️❤️❤️❤️" Aaron R.
There are no words to describe how amazing this venue is! Margo is by far one of the best people I have ever met. She made sure everything I wanted was done and it was done how I wanted it. She bent over backwards for me, and I felt like I was part of her family, that's how good she takes care of her clients We used the barn just for a reception venue, but I would have used the beautiful outdoor chapel in a heartbeat if my husband and I weren't so dead set on Anthony chapel at Garvan Gardens. Not only is the place beautiful but it very spacious and accommodating! But once again this place amazing in every way, use the catering service Margo runs!! OMG you talk about to die for. I literally couldn't pick between my 5 choices!!!! Not to mention she packed leftovers and we ate them for 3 days after! She helps you do everything before during and after! She helped make my wedding day the day of my dreams! And I am so so very thankful!!!! I'll be sharing my photographer's pics as soon as I get them back!!! Courtney L.
Had my daughter's wedding there last night. From the moment we met Margo and her family we knew this was the place. She is an amazing person that helped in any way possible and then some. Her facility was breath taking. I'm not only the bride's mother I'm a hairstylist That did all the hair and makeup and they have thought of everything to accommodate every one that walks in their doors. Margo and her family are amazing at what they do! I will recommend this venue to every one of my family, friends and clients.
Thank you again. Terri R.
Beautiful venue I went there one time and fell in love, and I booked it for my date! The owners are very flexible, personable, also just plain nice! I would recommend this venue to anyone! Anna M.
Worked with us on everything and we even were able to set up 2 days before the wedding, which made for a stress-free wedding day.
Kelsey C.
"Nice owners. Very pretty. Roads in great condition to get to can do inside or outside wedding" Nancy B.
I want to thank Margo for making my daughter's wedding so amazing!!!! Margo is the owner of The Barn of Lost Creek and does such a great job in everything she does. First of all, the barn is beautiful, and she works with you with your colors and design you want. She is so very helpful on the wedding day, and is willing to help with every detail!!! I love you Margo, you are one special lady!!
Toni D.
"Margo is the BEST!!! She is so professional, talented, helpful, and so very sweet. I highly recommend Barn at Lost Creek for a wedding or special occasion!!!" LeAnn D.

​"We had a great time yesterday working with The Barn at Lost Creek. Margo was efficient in advising us where to go, and house rules. We look forward to helping other couples and family's enjoy their events with you. -Turner Bartending"
Wonderful place! Can't thank Margo enough. Jerry J.

The facilities and amenities are top notch! My son's wedding was unbelievable. A huge thank you to the owners Margo and Mike Williamson. Tonja B.
The Barn at Lost Creek was BREATHTAKING! And Margo is an absolutely incredible person to work with when having a wedding! I had to book a venue from out of state and only going on pics and reviews but my goodness this venue was more beautiful than I ever imagined! Margo and her family has built a truly amazing venue! 5+ Stars all the way across! Andra T.
Perfect Wedding Venue!! Impeccable attention to detail, Exquisite decorating, Most friendly staff!! 5+ RATING Across the board!!
Casey W.
Absolutely amazing! The owners helped out tremendously! I would highly recommend this venue!!!!! Kim K.
My wedding was PERFECT Sarah T.
Title:
"
Wedding
"
Rating:
5 stars
Comments:
Stunning Wedding venue! Owners were amazing and accommodating they helped me pull off a last minute New Year's Eve wedding with no problems! They were great to work with and made my wedding day perfect!
Went to a Christmas Party here and it was amazing. Indoors and outdoors were beautifully decorated and very spacious.
Amber L.

As a hairstylist I've done countless onsite wedding hair and I have to say this place was by far the best location I've been at. Very clean & nice. The owner was very helpful and sweet. If your looking for a barn venue this place is it! Kristin S.

Just played a wedding gig here and I have to say that the location was wonderful. It's definitely the place to be if you're looking for a clever blend of modern and rustic. Zac W.

Margo is the best! Her venue, her responsiveness, and her food--it's all amazing. Our reception wouldn't have been half of what it was if it wasn't for her and her husband running around and making sure things were great. This is the best wedding venue in the area.
Hitee R.

The venue is very inviting and romantic. Loved being able to Decor & Coordinate the wedding for the Nottage couple
Kimberly T.
Amazing venue! Full size kitchen and bar, love it! ........don't wait book it now! Justin B.

BEAUTIFUL VENUE! They've really thought of everything! Bethany B.

S
uper impressed with all of the details! Nothing left to chance, everything has been very thought out, using the best materials!
EG B.
Drew and I had our wedding here! We'd do it again in a heartbeat. Totally loved it!
W
e had such a beautiful wedding because of Margo (and with the help of my parents and their friends doing the decorations, haha) and her hubs made everything so special for us. I'll promote The Barn at Lost Creek venue to anyone! I pray that you guys do incredibly well there. Reecie L.
I love this barn. I must get married here. The ceiling height and chandeliers are devine.
Sarah R.
A Truly Impeccable Gem in the Beautiful Ouachita Mountains of Arkansas. The Designer left no stone unturned to provide for even the most demanding perfectionist. I'm from Texas and "Lost Creek" has absolutely everything for providing the Finest Obtainable Venue this side of the Red River. Simply Perfect inside and out ..... Dr. R. Love ~ ☆☆☆☆☆ ~
​
Margo is amazing to work with! She made my day so special and so easy on us. She had the whole barn decorated and everything flowing smoothly. She is also a caterer if you decide to use her for that. The built in bar was amazing for our family and had enough space. All in all this was the best venue!
​
FAQ
Can I put tape or decals on the floor?
No. These items create a chemical reaction which removes the wax and stain from the floor and takes several days
to repair due to drying times and burnishing required after treating and restaining and then rewaxing.
Should I do a Partial Day rental?
Partial day rentals may not work for all couples. If you are planning to do any decorating, dressing,
do makeup and hair, photo sessions, ceremony, reception, and partying/dancing, etc.
you may not have enough time unless you are very strict at time management.
All time frames must be adhered to for many reasons concerning the venues responsibilities.
For Brunch Hours you can rent hours earlier in the morning but not later than 3pm, for Evening Hours
you can rent hours later in the evening but not before 5pm. Additional hours rent for $300.00 per hour.
​
How much is my deposit for booking?
Your deposit is 25% of the basic venue rental, not considering other amenities.
​(Ex: Saturday basic rental is $4,200.00 making the deposit $1,050.00, this confirms and guarantees your date.)
Is my deposit refundable?
Any and all payments made are non-refundable, only the security deposit is refundable if not used.
We recommend "cancellation/postponement" insurance for your protection.
How much is my security deposit and is it refundable?
$500.00
The security deposit is refundable, but may be used in part for minor damages, charges that may have
been overlooked or added at the last minute, or, clean - up of items left behind per the contract.
When can I do a rehearsal?
Traditionally the day before is used as the rehearsal day and we open for an hour, but, if there is an event scheduled
for that day then the rehearsal would have to be at some other time. In most cases the rehearsal can be done
in the morning of the 14 - hour time frame on the day. The bride doesn't actually have to be at the rehearsal
if she doesn't want to be seen by her groom because her part is to just walk down the aisle.
Do you set up and tear down?
Yes, we set up the basic tables and chairs so that we can
have the linens you choose on the tables when you come to do your tablescapes.
Can I come in and set up a day or two ahead of time?
If there is no event scheduled, we charge $300.00 per hour to use the venue for early set up,
this covers our daily cost of the venue and an attendant to be onsite.
Can I visit after a tour to show someone else?
We allow up to 2 - one hour visits after booking for you to bring others to see the venue,
such as a DJ, Wedding Planner, family members, designers, etc.
Can I schedule a rehearsal dinner the day before?
If there is not another event scheduled on that day, we offer a 2 hour rehearsal dinner time for $700.00
(not including food) which also guarantees a rehearsal hour for free before or after the dinner and
optional additional hours at $300.00 per hour for set up, etc.
Do you take credit cards?
No, we take cash, checks, or money orders.
Can I reschedule my date?
All date changes requested 180 days or more before the scheduled date will be charged a $350.00 charge to
make the change payable at time of date change, if the request for a date change is less than 180 days prior to the
scheduled date a charge of $600.00 is required and payable at time of date change. The reason for these charges
is because date changes are costly to the venue, many times we have requests for the date you have chosen and
we lose those customers who may have had to book with another venue because they didn't have any flexibility
in their date. We recommend getting "cancellation/postponement" insurance to cover any losses you may incur.
Do you allow alcohol?
Yes, we allow most alcoholic beverages, and you must provide them. Beer needs to be in cans because we're on concrete and glass can be hazardous. Also, your event insurance for that day must include host liquor liability as well.
Do you provide tablecloths or linens?
We offer linens for a fee in several colors and will acquire any color you desire. We currently steam them onsite.
Do you have a sound system?
Yes, you can use a playlist on your phone or other device. We can also recommend a DJ.
What about catering?
I offer a free tasting of 3 entrees for up to 6 guests for an hour at the venue.
Also, we allow other caterers. Our refrigerator, freezer, and minimal sink use are free for your use, but,
any heating, cooking, microwaving, or using counter space outlets will incur a $150.00 kitchen charge.
Does the wedding garden have electrical power?
Yes, we have a couple of outlets, one at the altar and one on the first arbor post.
How tall and wide is your garden altar?
To decorate the altar in the wedding garden, the dimensions are 10' wide and to the top of the first cross beam is 9'.
Do you have any decorations I can use?
Yes, we are continually adding to our collection of items for tablescapes and other miscellaneous decor.
We only ask that they be returned to storage in the same condition and please
clean the glass cylinders of wax, fingerprints, etc.

​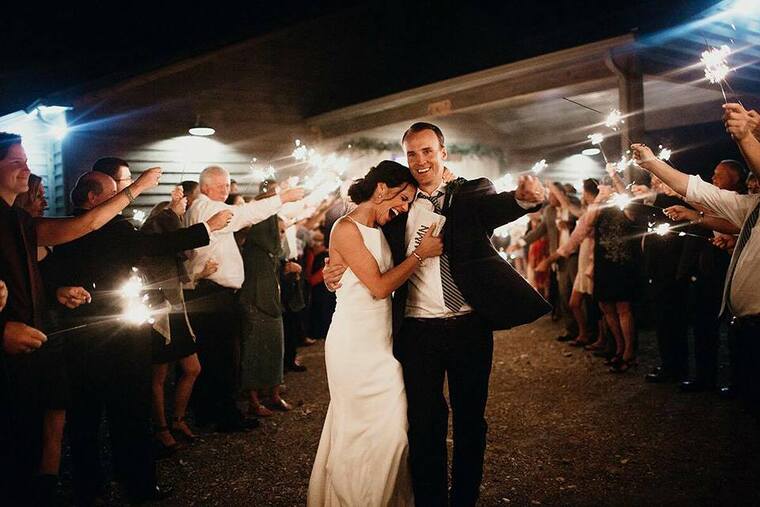 Site powered by Weebly. Managed by
iPage